Palo Alto College Named "Rising Star" by National Aspen Prize
FacebookTwitterLinkedInEmail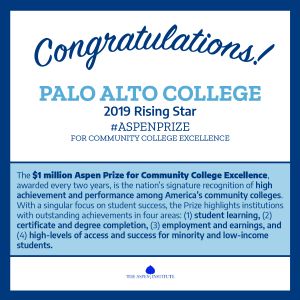 The Aspen Institute's College Excellence Program announced Palo Alto College as a "Rising Star" award winner of the 2019 Aspen Prize for Community College Excellence, the nation's signature recognition of high achievement and performance among America's community colleges.
"Representing the Alamo Colleges District and community colleges across the nation at this level is an honor for each one of us at Palo Alto College, and this achievement would not have been possible without our faculty and staff's commitment to the journey and the support of our entire community, including the leadership of the Alamo Colleges District," said Dr. Robert Garza, president of Palo Alto College. "Whether students are the first in their family to attend college or looking to continue their education, Palo Alto College has always believed that education should be accessible to everyone. And by keeping our students first and being one of the best in the nation, we will continue to be a place where our community and students can achieve their dreams and aspirations for a better life."
Read more about this accomplishment at Alamo College District News.