Dr. Kurt Ewen Named the 2022 Cheesie Nelson Award Recipient
FacebookTwitterLinkedInEmail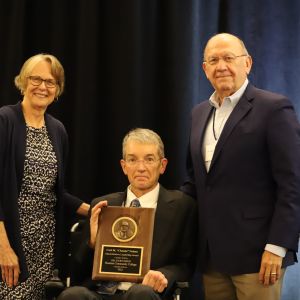 Congratulations to Dr. Kurt Ewen, Vice Chancellor for Strategy Planning & Institutional Effectiveness and Chief of Staff at Houston Community College for winning the Carl "Cheesie" Nelson Award for 2022.  
Dr. Ewen has exemplified what it means to be a transformational leader by developing a vision for HCC's future that follows uncharted pathways.  He has a deep understanding of organizational design, is adept at mobilizing commitment from people, and, most importantly, is able to institutionalize that commitment. With more than 20 years of experience in higher education, he is fully committed to creating large-scale change that impacts the greatest number of students.
During the awards ceremony, Dr. Cesar Maldonado, Chancellor of HCCS, said, "Dr. Ewen's contributions to HCC have greatly impacted both the experience of our students and the Houston community. By identifying ways to be more direct in helping students, he has made changing the lives of those in our community a top priority. His understanding and commitment to the mission of our college has resulted in significant improvements in student success, as well as investment in our faculty."
The Carl "Cheesie" Nelson award celebrates exemplary commitment to Texas students, leadership, professional decorum, collaboration, and community engagement, and is the most prestigious annual award presented by the Texas Association of Community Colleges.