Community College Day 2019
Published:
February 19, 2019
FacebookTwitterLinkedInEmail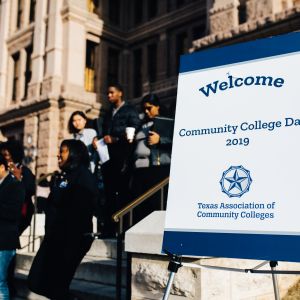 TACC was honored to once again host Community College Day at the Capitol on Wednesday, January 30, 2019. Eager and engaged community college students met with their elected officials and advocated to advance the mission of their college and TACC's legislative priorities for the 86th session. With an attendance of 1,151 students and faculty from colleges across Texas, the hallways of the state capitol came to life with students' desire to learn and lobby for issues they deemed crucial to their education and future. The day began with a rally on the capitol steps filled with school colors, inspirational words and motivating speeches from Senator Kel Seliger, Dr. Greg Williams, President of Odessa College, Texas Junior College Student Government Association, and Jacob Fraire, President and CEO of TACC. We closed the day with a robust discussion led by Young Invincibles (YI), founded in 2013 YI focuses their advocacy efforts on two key priorities for young adults in Texas: the intersection between workforce development and higher education, and access to mental health services. Overall, it was a great day.
Thanks to everyone who traveled to Austin to make sure Community College Day at the Capitol was a success. We're grateful for your efforts!
Community College Day 2019 Twitter Mentions: 
#TXSuccess- 59 mentions

#CCDay2019- 116 mentions

#TXcommunitycolleges- 36 mentions

#WeServeAllTexans- 28 mentions

#dualcreditworks- 17 mentions 

#WePutTexansToWork- mentions 10

#CommunityCollegeDay- 10 mentions 
Community College Day 2019 Snapchat Mentions: 
Filter used: over 300 times 

Filter viewed (by the user's followers): almost 18,000 times