Aspen Institute names Presidential Fellows for community college excellence
Published:
April 17, 2019
FacebookTwitterLinkedInEmail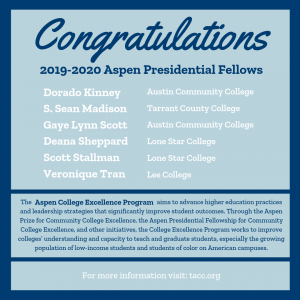 "The Aspen Institute's College Excellence Program today announced the 2019-2020 class of the Aspen Presidential Fellowship for Community College Excellence, a leadership program aimed at preparing the next generation of community college presidents to transform institutions to achieve higher and more equitable levels of student success, both in college and in the labor market. 
The select group of 40 Aspen Presidential Fellows will embark on a 10-month fellowship beginning in July 2019. Delivered in collaboration with the Stanford Educational Leadership Initiative, the fellows will work with mentors – current and former community college presidents – who have achieved exceptional outcomes for students throughout their careers. Fellows will also learn from national experts about ways to harness data to assess student success outcomes, strategies for internal change leadership, and how to create strong external partnerships with K-12 schools, four-year colleges, and employers." 
For more information on these selected leaders visit The Aspen Institute's College Excellence Program