TACC announces plans to collaborate with Amazon Web Services to reskill, train, and certify 50,000 Texans for cloud careers by 2024
FacebookTwitterLinkedInEmail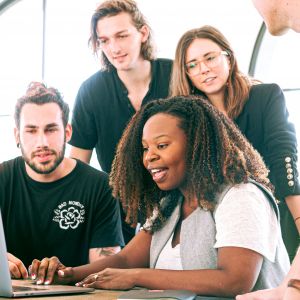 AUSTIN, TX, May 20, 2021 — Today the Texas Association of Community Colleges (TACC), in collaboration with Amazon Web Services, Inc. (AWS), announced a statewide initiative to enable access to cloud computing education courses and certifications for students in community colleges, as part of the Texas Reskilling & Upskilling through Education (TRUE) initiative. This statewide initiative aims to train, reskill, and certify 50,000 Texans, over the next three years, to qualify for cloud computing jobs in their local communities.
In support of this initiative, AWS aims to equip TACC with professional development, technical training, and a select number of certification exams for those educators, instructors, and faculty who will begin teaching cloud computing courses to their students starting next fall. AWS education programs provide education institutions with ready-to-teach, cloud computing curriculum that prepares students for industry-recognized AWS Certifications to qualify for local in-demand cloud jobs. Institutions across the state are invited to participate.
"Texas proudly boasts the best workforce in America, and we're pleased to partner with AWS on this initiative that will reinforce Texas's efforts to build and train the workforce of the future," said Governor Greg Abbott. "As Texas continues to attract more high-tech jobs to the state, this collaboration will help provide Texans with the education and skills they need to secure good-paying jobs and provide for their families."
A record number of Texans lost their jobs and filed initial claims for unemployment benefits throughout the COVID pandemic. During this challenging job market, many of these individuals lacked the skills to quickly reenter the workforce to secure employment with employers with open roles. The unemployment rate for individuals with a high school diploma or less remains significantly higher in Texas than for individuals with post-secondary credentials. This is especially challenging among low-income learners and people of color. As the current provider of more than 90% of credit-bearing career and technical education certificates, Texas community colleges are best positioned to close the skills gaps and enable access to good-paying jobs across the state.
"The Texas Reskilling & Upskilling through Education (TRUE) initiative aims to prepare all interested students for in-demand careers, accelerating their transition to work while also building an enduring education infrastructure to support a thriving Texas economy throughout the diverse regions of the state," said Jacob Fraire, President of the TACC. "Our colleges are thrilled to work with AWS and their local customers to bolster our talent pipeline of cloud-ready professionals."  
According to LinkedIn, cloud computing has remained one of the most in-demand hard skills for the past five years, and two AWS Certifications appear on the top 10 highest paying certifications list by Global Knowledge (2020). Data from Economic Modeling Specialists International (EMSI) identified 348,709 unique job postings in Texas requesting cloud computing skills in 2020, and more than 13 percent of those jobs specifically requested AWS skills. Only a select number of Texans currently hold an AWS Certification, creating a significant skills gap for local employers interested in hiring technical talent to fill open roles.
"Community colleges have become unique centers for workforce development, providing specialized training that help learners develop specific skills to meet industry needs," said Kim Majerus, Leader, U.S. Education, State and Local Government at AWS. "Cloud technology is helping all industries and sectors rapidly innovative, and community colleges can serve as a hub to help learners continue to advance their skills. With Governor Abbott's leadership, we are thrilled to collaborate with TACC and TEA as we invest together in the current and future workforce of the great state of Texas."
Local employers are equally excited about the potential of building a vibrant new pipeline of cloud-skilled candidates to meet the needs of the local Texas workforce.
 "It's a simple concept really: align industry needs with quality training programs that provide Texans with an efficient and effective path to in-demand skills for the 21st century," said Justin Yancy, President of the Texas Business Leadership Council. "Having employers collaborate with the development of new industry-aligned credential programs is a recipe for success and will lead to a more prosperous economy in our state." 
"Digital skills in emerging fields such as cloud computing on AWS are increasingly needed by employers in the Houston region. Short-term credential programs created by industry and delivered by our local schools ensure students can develop the skills and abilities employers need," said Peter Beard, SVP of the Greater Houston Partnership. "Through the TRUE initiative, community colleges, in partnership with our local high schools, are essential to developing the workforce Texas needs today and into the future."
"Increasing the supply of skilled cloud talent for our local high-tech workforce is a key focus for the Dallas Regional Chamber," said Elizabeth Caudill McClain, DRC Vice President of Education & Workforce. "As we look to recover from the pandemic, ensuring that all North Texans have access to training in high-demand careers that pay living wages will quickly get displaced workers and under-employed workers back on track in our growing economy."
---
To learn more about cloud training offerings at your local institution and how to enroll, please visit here.
For more information about AWS education programs, a part of AWS Training and Certification, please visit here.