Performance-based funding works, and the state should increase its investment
Published:
April 10, 2019
News Category
Higher Education Policy
FacebookTwitterLinkedInEmail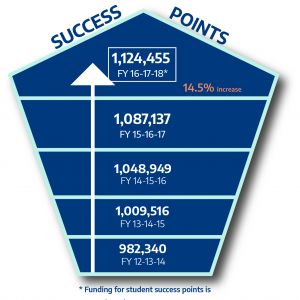 "Since their inception in 1901, public two-year colleges have embraced a resolve to provide access to higher education for college-bound students, and to those who otherwise would have been denied the opportunity. In Texas, we continue to fulfill this historic mission through open admissions and affordable access to general education and workforce programs. Community colleges enroll 736,000 students in service areas spanning 249 of the state's 254 counties.
Policymakers exploring performance-based funding could learn from the recent experiences of Texas community colleges. Student Success Points was established in 2013 as the performance-based funding system for the state's 50 public community colleges. This contemporary funding structure is based on the premise that community colleges can simultaneously meet their historic mission to broaden access and realize measurable student outcomes, such as certificate and degree completion and student transfers."