Higher education officials urge Legislature to invest in colleges and universities after pandemic takes toll on students and economy
FacebookTwitterLinkedInEmail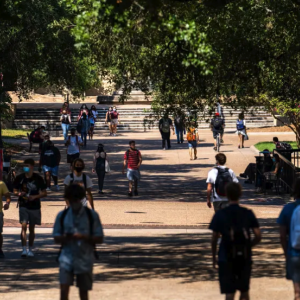 When the last legislative session ended with huge wins for Texas public schools in the form of increased funding and teacher raises, higher education leaders looked to 2021, hopeful it would soon be their turn.
Texas Higher Education Commissioner Harrison Keller, who took the helm in the fall of 2019, started meeting with state lawmakers and Gov. Greg Abbott to push the idea that the next session should be focused on higher education, including a bill that could overhaul its funding.
Then, the pandemic hit.
Now, instead of the hike in spending they were hoping for, universities are trying to avoid budget cuts while advocating for more resources to serve students, many of whom have been hit hard by the past year.
"In some ways, it pulled the rug out from under us," Keller told The Texas Tribune in an interview. "But this still needs to be a higher ed session. ... If anything, some of the issues that we've been talking about over the last year seem like they're even more urgent."
As Texas lawmakers grapple with a struggling economy hurt by the ongoing coronavirus pandemic and a winter storm that thrust the state's electrical infrastructure into the spotlight, higher education advocates are desperately trying to make the case that the state still needs to increase investment in its colleges and universities.