A Deep Dive Into Texas Community College Finance
Published:
November 11, 2021
FacebookTwitterLinkedInEmail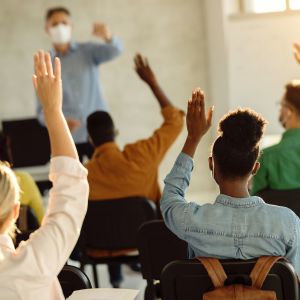 AUSTIN, TX – After nearly 50 years, Texas will examine the efficacy of community college state funding through the Commission on Community College Finance (SB 1230, 87-R).  The state's funding formula for the 50 public community college districts has largely been unchanged since 1973, and state investments, as a percentage of the total community college budgets, have steadily decreased over the past several decades. Community college funding must evolve with the changing needs of Texas' students, workforce, and employers in an economy that increasingly demands a postsecondary education.
 
A data-informed examination of state funding dynamics and workforce trends will ensure that community colleges sustain education and training programs responsive to the state's workforce needs. In 2020, Texas community colleges were the source of 82 percent of Texas' technical and career education credentials and enrolled two of three undergraduate and workforce students older than 30. Community colleges are the right target for smart investments to upskill and reskill the Texas labor force.
 
The Texas Association of Community Colleges (TACC) applauds the Texas leadership for advancing this historic commission. "We are hopeful the commission, having examined trend and forecast data on student outcomes, will make recommendations to ensure community college funding and student outcomes are aligned with the state's postsecondary goals," says Jacob Fraire, TACC President & CEO.  
 
As students and families faced the uncertainties and economic disruptions of the COVID pandemic, direct-to-college enrollment dropped for the second year in a row to under 45 percent, 13 points short of the 60X30TX target. With a student borrowing rate under 30 percent, open access policies, and 92 percent of all dual credit students, Texas community colleges provide affordable and clear pathways to higher education for students across the state.  
 
TACC is grateful to the forthcoming work of the twelve commissioners appointed by Texas Governor Greg Abbott, Lieutenant Governor Dan Patrick, House Speaker Dade Phelan, and the two primary associations representing the leadership of Texas community colleges.
 
The following policy, college, and business leaders will serve on the commission:
Presiding Officer: Woody Hunt, Senior Chairman, Hunt Companies
The Honorable Brandon Creighton, Texas Senate
Dr. Mark Escamilla, President, Del Mar College
Dr. Stephen Head, Chancellor, Lone Star College
Dr. Brenda Hellyer, Chancellor, San Jacinto College
Brian Jones, Director, Professional Learning, Odessa College
Dr. Brenda Kays, Kilgore College
The Honorable Oscar Longoria, Texas House of Representatives
Carol Scott, Chair, Del Mar College Board of Regents
The Honorable Larry Taylor, Texas Senate
The Honorable Gary VanDeaver, Texas House of Representatives  
Todd Williams, CEO, The Commit Partnership 
The work ahead is critical. TACC looks forward to offering research capacity and deep expertise on community college finance while working with Texas Higher Education Commissioner Harrison Keller and state policy leaders.
 
For more information on the commission, please visit the TACC website.