Bill to make college credit easier to transfer heads to Governor's desk
FacebookTwitterLinkedInEmail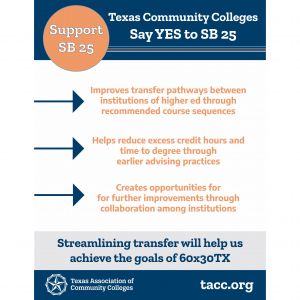 "This watershed legislation will help reduce excess credit hours and time to degree, improve transfer pathways for students, and create opportunities for future improvements through collaboration among institutions," Jacob Fraire, President & CEO, Texas Association of Community Colleges, said. "The bill's provisions to create recommended course sequencing for all degree programs paves a clear and transparent academic pathway, understandable to students and families."
"Students looking to transfer may soon find it easier to move college credits from one college to another. State lawmakers unanimously passed Senate Bill 25 out of both chambers this week, with the end of the legislative session just days away.
The bill now heads to the Governor's desk for a signature or veto.
Provisions in Senate Bill 25 call on colleges to more clearly identify which course credits would or would not transfer. It initiates universities to work with junior and community colleges to create more course sequences so transfer students have more defined paths to graduation and the workforce." 
Continue reading about Senate Bill 25 via KXAN.